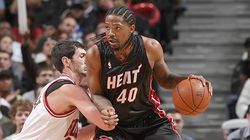 UPDATE Aug. 16, 9:12 am: Here comes the defense, and to be blunt (pardon the pun) it's a pretty familiar… It wasn't his, it was the passengers, he didn't even know it was there. You know, all the stuff you told your parents as a teenager when they thought they smelled chronic in the car after you borrowed it.
Ira Winderman of the South Florida Sun Sentinel (and us here at NBC) spoke with Haslem's attorney:
"All the marijuana in the car, according to the police report, belonged to the passenger. The passenger admitted it."

"Haslem has done nothing wrong. He did not know it was there. He's being targeted because he's a high-profile NBA player."
You can decide for yourself the validity of those statements. Well, you and the judge.
Aug: 15, 9:41 pm: Expect to hear a lot of jokes about Udonis Haslem getting a head start on the Heat's 2011 championship they've supposedly already won (as Dwyane Wade said, "the hard part's over" after all).
WSVN in Miami reports that Haslem was pulled over in Miami-Dade county Sunday for illegal window tint, whereupon the officer smelled that particular odor reminiscent of marijuana cigarettes. After searching the car, Haslem and his passenger were charged with possession of marijuana, along with the window-tint charge and speeding.
TMZ reports that the arresting officers found less than 20 grams of marijuana. Reports are sketchy at this time whether that amount is sufficient to get Jazz rookie Gordon Hayward stoned back to third grade (or in other words, two weeks ago) (double-zing!).
It's at this point I'm supposed to tell you about how the Heat don't need these kinds of distractions, or that it's reminiscent of how the Heat aren't mature enough to contend, or some other nonsense based on a largely insignificant charge that will have no long-term repercussions.
Haslem, to public knowledge, has not had another drug run-in recently, and therefore won't be impacted by suspensions (it's only on third incidents that the league hands down suspensions). The shocking thing about this is not that Haslem was arrested for marijuana possession, but that of every single person in Miami-Dade county in possession of marijuana today at 3PM, Haslem was the one that got busted.
Ah, we've reached that magical moment each year, where NBA players start filling out the police blotter. Fall is right around the corner!