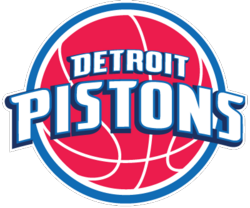 Last December, Forbes estimated the value of the Golden State Warriors at $315 million, yet when the team hit the open market, it sold for a record $450 million (although that deal has yet to be finalized).
So with the Detroit Pistons valued at $479 million, they should sell for…
Nope. They are not going to go for in excess of $500 million and may well sell for less than the Golden State price, according to Crain's Detroit Business publication.
The bank hired to broker a sale of the Detroit Pistons and Palace Sports & Entertainment Inc. is seeking $500 million from potential buyers — a price industry insiders and likely bidders consider inflated by $100 million in this market, a source familiar with the situation said…

"Today, with the financial uncertainty, the tremendous dislocation of the Michigan economy, that would be an extraordinary price to be achieved," Marc Ganis, president of Chicago-based sports consulting firm Sportscorp Ltd. "If it were two years ago, maybe."
A few things are in play here. First is the regional economies — the Bay Area remains the heart of the technology industries in America and as such has a lot of money flowing around. Bluntly — there are a lot of rich people in the Bay Area right now. Michigan, still home of America's car culture, is being hit hard right now. This is not the area for big sponsors or tons of people with extra disposable income.
Second, the Golden State price got inflated as insanely wealthy Larry Ellison was involved in the bidding, so groups that wanted to outbid him knew they had to go big or go home.
On the other hand, one of the key bidders for the Pistons is Mike Ilitch, who already owns the Tigers and Red Wings, so he knows the Detroit market well. And remember earlier this year he hired Tom Wilson, the longtime Palace Sports and Entertainment president (that's the company set up by the late Bill Davidson to run the Pistons). So Ilitch knows exactly what the Pistons take in and expend.
Karen Davison, Bill's wife who now owns the Pistons, is not going to lose money on this sale — Bill bought the team for $8 million in 1974. But she may make $100 million less than she hoped, as well.