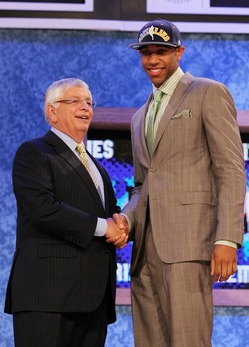 Xavier Henry and the Memphis Grizzlies remain at an impasse.
There are only two first round picks from the last draft that have not signed, and they both belong to the Memphis Grizzlies. It's because Memphis has broken with what is seen as rookie contract tradition.
According to the Collective Bargaining Agreement, rookie contracts are on a scale, in Henry's case that first year salary is $1,683,500.
Memphis can offer from 80 to 120 percent of that scale. Teams almost always offer the 120 percent figure (the Spurs are the prominent exception). As is pointed out in a great contracts post at Sham Sports today, often incentives are used to reach that 120 percent figure (or a part of it). But those incentives often are pretty obtainable things, such as keeping up with workouts. Things that the player can control.
Grizzlies general manager Chris Wallace doesn't see it at way, as he told David Aldridge at NBA.com.
"There have been some teams that have tied performance bonuses to the 20 percent," Grizzlies general manager Chris Wallace said on Sunday. "Basically, our position is that the extra 20 is a bonus. And bonus means additional performance. We feel like if a guy gets on the court and plays for us, then you're contributing to our team in a significant way."
Wallace is tying the bonus to the number of minutes Henry plays.
That brings us to the Nate Robinson story. Last year late in the year, Doc Rivers sat Nate Robinson for a few games. Robinson had a couple rough games before that, but that is Nate — some nights brilliant, some nights he struggles more. Sit him and you risk missing one of those nights when he wins the game for you off the bench. Rivers sat him anyway.
Then it turns out missing those games cost Robinson a contract bonus of $1 million. As Boston was paying the luxury tax, that is $2 million in savings to the franchise.
Look at that and you can see why Henry and his agent Arn Tellem balk at the idea of Henry's bonus being in control of the team. Over the course of his rookie deal, that 20 percent could be worth $1.7 million. A lot of money to a rookie and to a small market team.
So here we stand. Memphis has picked a fight with a tiger in Tellem, and the fight drags on. To the potential detriment of the franchise and the player. Maybe it's all just a foreshadowing of the lockout next summer.