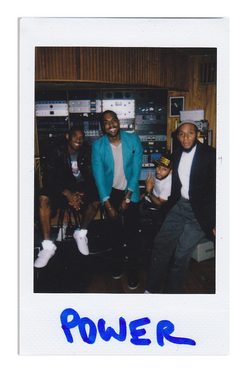 Is there a bigger sign of the divergent paths their careers have taken than knowing Kobe Bryant was hanging with Kanye West and Mos Def last week, and the last we saw of Shaq he was with Justin Bieber?
As the people who have not unfollowed Kanye's shoutout-heavy twitter account knew (or as you can see from the photo), Kobe was indeed the studio with Kanye last weekend, while Kanye is remixing and reworking Power. We're sure it's a doctor's part of his knee rehab, or he wouldn't be doing it. Right? Or maybe, just maybe, Kobe likes to have fun now and again too, he just doesn't do a television show about it.
Kobe was actually in hanging out and talking about the philosophy of power.
Kobe wins, Kobe is a killer on the court, so he has the cred to hang with whomever he wants. He's earned it (not because of his hip hop efforts). Plus, Kanye said it and said it in all caps so you know it's true:
YO KOBE IS THE GREATEST AND A REALLY NICE GUY!!!