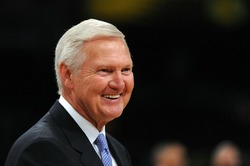 How many franchises out there could use to bounce some of their personnel moves off Jerry West?
Actually, is there any that couldn't?
Jerry West is done with his days doing the day-to-day grind thing, but he would consider a consultant's role with a front office, he told NBA.com.
"If there were an opportunity that I considered attractive, and obviously working with the right people would be very, very important, I could have an interest. But it wouldn't be on a day-to-day interest. I've always felt it would be nice to be a working consultant. I'm not talking about somebody that just sits around and does nothing. You're either in or you're out."
That would have been his role with Golden State if West's friend Larry Ellison had won the bidding for that franchise.
But as he did not, West is available if he likes the situation.
Jerry West "The Logo." Jerry West one of the best guards ever to play the game. Jerry West the guy who helped keep the Lakers on top during the Showtime era then convinced Shaq to come to L.A. West the guy who talked John Calipari (then with the Nets) out of drafting Kobe Bryant so he could grab the future Hall of Famer. Jerry West one of the best NBA executives ever.
Yea, a few teams might be better off bouncing their player/personnel moves off West.