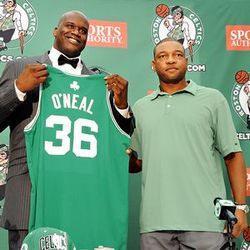 Shaquille O'Neal was still on the market late in the free agent season in large part because of his demands.
He was asking for at least the mid-level exception. He wanted a key role on the team. Basically, he wanted to be treated like the Shaq of 2005.
Boston was interested in him, but not on those terms. So Shaq was summoned to Doc Rivers home in Florida for a "come to Jesus" meeting, according to Gary Washburn of the Boston Globe.
He told O'Neal he may not start. He told O'Neal his skills had declined, so touches won't be a priority. He told O'Neal he was a liability on pick-and-roll defense. O'Neal sat there with a blank expression, and Rivers thought there was no chance of a deal getting done. There was no way O'Neal would accept that type of criticism and accept a minimum salary as well.
He did. He signed. And that may turn out to be big for Boston because at this price Shaq is a bargain. He still can score at a fairly high percentage, he can still board, he is still a big body in the paint that can be used again teams like Orlando, Miami and Los Angeles.
But it's a small role. Fortunately for Boston, there is nobody better at selling star players that they need to fit into roles than Rivers.