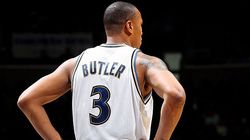 It's a little hard to picture Caron Butler — all 6'7″, 215 pounds of him — in Lycra shorts and a tight-fitting yellow cycling shirt with about 1,000 sponsors plastered all over it. You know, decked out like the weekend warrior cyclist.
But if you've been in Washington DC this summer, you may well have seen him on a bike. Not that outfit, but Butler getting in some road work.
"Yea, I'm biking a whole lot. Trying just to avoid wear and tear I bike a lot more," Butler told PBT in an interview last week. "It something I've grown to like a lot."
Like a lot of veterans (Butler is about to enter his ninth year in the league), he is a guy looking for a way to break up the workout routine, and find something that can not put the pounding on the body that running up and down a hardwood floor all winter can do.
At his size, Butler can't just buy a bike off the rack, he had one custom built in Chicago. And he put it to use.
"I ride a lot of miles, it varies from sometimes 40 mile rides to 20 mile rides. But I definitely get it in every day," he said.
That's in addition to weight work and getting out on the court.
"I still get in the gym to get my skill work in and my shots, you know I got to see the ball go in to keep my rhythm and to keep the confidence," Butler said. "But at the same time I'd doing a lot more on the bicycles, and it's just really helping me with the wear and tear."
Pretty soon, Butler is heading from Dallas (where he moved back to just last week) to Chicago, to work out for the legendary Tim Grover. He's the guy who earned his reputation with Michael Jordan and has since worked with Kobe Bryant, LeBron James and a ton of he NBA's top talent.
"At the end of the month I'm going down to Tim Grover's spot for a month and be with them and work on my explosiveness and get the chance to work out with some of the guys that are there," Butler said. "Pretty much go to Grover's and get ready for a big year."
Butler had a good last season, playing in 74 games (the most since his first year in Washington) and giving the Mavericks nearly 38 minutes a game, 16.3 points per contest, but his shooting percentages fell well off (his traditional shooting percentage dropped from 45.3 percent to 42.8 percent, his True Shooting percentage dropped from .552 (points per shot attempt) way down to .507).
That and the early loss in the playoffs is why Butler is going to Grover's. And why he is on the bike. He didn't like the taste of the end of last season.
This was the first of several posts on Butler after speaking to him last week from his home in the nation's capital. Up tomorrow will be his thoughts on the Mavs season past, coming up, and if he ever thinks about that Miami Heat team from 2003.