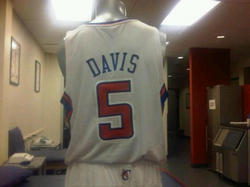 It's already been a big day for uniform junkies, with the Timberwolves having unveiled their new jerseys today and the announcement that the Cavaliers will unveil a slightly different look tomorrow. Now, courtesy of Baron Davis' twitter account,
here's a look at the new Clipper jersey
. 
For a look at the front of the jerseys, check out the photos of DeAndre Jordan and Blake Griffin, who modeled the new jerseys at the
Clippers' official unveiling.