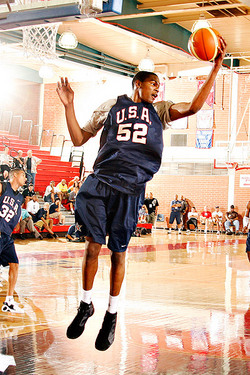 As expected, Team USA routed France, 86-55.
We talk about how Team USA is sending a "B" team to the World Championships (Kobe, LeBron, Wade, Melo and more are staying home) but France also has six NBA players not suiting up, including Tony Parker. So what we know for one thing is that the basketball talent pool in the NBA is much deeper than France. Well, not sure we learned that so much as were reminded.
What things did we learn, or at least learn to look for going forward?
* The USA has a lot of work to do on half court offensive execution. Coach K said as much after the game.
The USA's half court offense early on seemed to be about half-hearted high picks and waiting for dribble penetration from a guard. In the second quarter they got better about trying to exploit mismatches (like anybody on Rudy Gay) but that was sporadic. The spacing was poor at times and there was a little too much isolation and not great player movement. They can do that against France and still win handily, but by the time of the knockout stages of the World Championships there will be teams that can slow the USA running game down, not turn the ball over as much, and force the USA to beat them in the half court. This needs to get better.
* Russell Westbrook looks like he may be the last guy cut (there are 13 guys on the roster right now, that has to be at 12 by Aug. 26). Both Stephen Curry and Eric Gordon looked good with their burn against France, while Westbrook did not get in until late and, while not looking bad, didn't look as good as the other two. It was thought Gordon and Curry were fighting for one roster spot, but both have simply played too well not to be on the roster.
* The first quarter by the USA was just sloppy. Five turnovers, they missed open looks (Kevin Durant had a few of those in what was an off game for him, but he still finished with 14 points) and at one point France was up three.
* The USA halfcourt pressure man-on-man defense really bothered France, as it will most teams. A few forced 24 second clock violations, forced turnovers that led to chances to run. This is a long and athletic team that can be a defensive force on the wings.
* The USA also ran a lot of zone defense, and they seem to be getting better at it. You need to be good at it in international ball, however, because they run a lot of it in European leagues and guys recognize how to attack it much better than America players tend to. France broke it down a few times beautifully, and Chauncey Billups said that China broke their zone a lot in a scrimmage. Something to watch going forward.
* Lamar Odom looks good playing inside using his quickness and length. He really has a game that's a great fit for international basketball as a big.
* Not a lot of burn for Kevin Love, who is still getting over a bruised calf, but when he was in you see why he is so key — the outlet pass. Nobody in the league is better at it than him, and on a team that wants to run like the USA that skill is crucial.
* France's Nicolas Batum… I love his game. I think he could have a big year on a Portland team primed for a breakout year (if they can just stay healthy).
* Billups is good. Very good. Rudy Gay is amazing in the open court. Again, not things we learned but things we were reminded of.