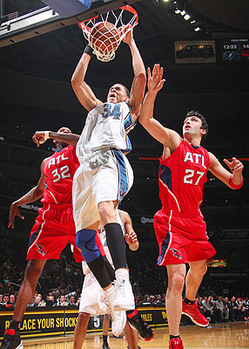 Last season, Flip Saunders kept watching JaVale McGee and thinking "he shouldn't get that tired that fast." McGee is maybe the best athlete on the team, one of the best natural athletes in the association, yet he wore down quickly.
That had been happening since he played at Nevada, but he went to the doctor on coach's orders.
And found he had asthma, as he told Michael Lee of the Washington Post.
"Before I would get tired and it wouldn't be body tired, it would be I couldn't breathe," the 7-foot-1 McGee said. "I thought, even in college, I thought I was out of shape all the time."
With medication McGee was doing much better, noting he played 46 minutes in one game last season and didn't put his hands on his knees once.
McGee is close to breaking out — he and John Wall showed a real connection at Summer League this year. On a team that runs McGee's freakish athletic skills will be more on display. He needs to be more consistent, he needs some more shots, he needs some polish on a game that can rely too much on that athleticism. That is why he was cut from Team USA this summer.
But he is going to be a fun guy to watch this season. And you'll be able to see more of him because he can now stay on the court longer.