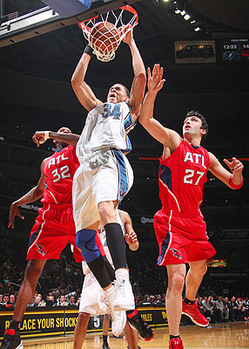 JaVale McGee is a freak athlete, but that alone is not enough to get you on Team USA.
McGee himself announced that he has been cut from Team USA via his twitter account this morning.
The Bad new is….. I got cut from the USA team :(… But i get to go back and work out again and get better for the wizards
USA Basketball also announced that Oklahoma City forward Jeff Green. McGee and Green did not see the court in a scrimmage Saturday against China. Neither man will be traveling with the squad to Europe.
 However, McGee may want to keep a bag packed as he has been called back to Team USA twice when another big man got injured.
The only true center on the Team USA roster is Tyson Chandler. When he is not in the game a mixture of Kevin Love and Lamar Odom will technically play the role. Mike Krzyzewski even tried Kevin Durant in the role. The USA is going small and quick with a pressure defense and baskets in transition.
Those guys will work well against most of the teams the USA will face. But teams with big front lines — Spain with Marc Gasol, Brazil with Nene and Anderson Varejao — the USA's lack of size could be an issue.
This upcoming season could be a breakout one for McGee. He is still a growing boy — literally, he grew an inch and added seven pounds this summer.
He also showed a real connection with John Wall during Summer League, and on a team that is going to get out and run this year an athlete like McGee will have the chance to throw it down a lot in transition. He's going to make a lot of highlight films.
But his whole game needs to round out for him to be a Team USA quality player.