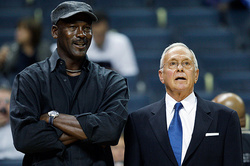 The "right way" to build an NBA franchise is from the ground up. Clear out contracts. Draft well. Sign value free agents to smart deals. Stay young and stay flexible, in the hope that one day an elite player will finally fall into the team's lap. Unfortunately that's not a blueprint most small-market clubs can afford to take, as the pressure to reach a certain level of commercial success ends up superseding the actual team-building strategy.
That financial reality coupled with the fact that there are only so many franchise centerpieces to be had makes it quite common to see teams shooting for playoff berths rather than championships. Though bad management is surely to blame for a lot of the NBA's bad contracts, the impact of small market difficulties should not be discounted. It's something franchises like the Lakers (and even the Knicks, despite the troubles they've had over the last decade) never face, but there's a legitimate and unfortunate motivation for teams in smaller markets to overpay for second and third tier talent.
The Bobcats are such a team, as evidenced by their willingness to take on Stephen Jackson's absurd contract via trade, as well as Boris Diaw's. Now, Charlotte isn't responsible for committing huge amounts of money to either of those players, but they did sacrifice financial flexibility in the process of acquiring them. Not because anyone with the Cats thought that Diaw or Jackson would legitimately push the team into the conference's top tier, but because they needed to get better, contracts and roster limitations be damned.
It didn't matter that both players have definite flaws in their games that prevent them from being focal points of a championship-level team, even if they're being paid as such. Charlotte needed talent to make a jump (even if it wasn't the jump), and they went out and got it. In the process, it may have crippled their hopes of really elevating the quality of the team in the near future, but y'know what? It's paying off. In terms of their bottom line, anyway.
From David Scott of the Charlotte Observer (via Tom Ziller of FanHouse):
The Bobcats, who reached the playoffs for the first time in their
six-year history last spring, have renewed 91 percent of their season
ticket holders and sold 1,575 new season tickets for the 2010-11
season, which begins in October.

Both those numbers are in
the top 10 in the 30-team league, according to Bobcats president Fred
Whitfield, who got the news at a recent NBA executives meeting. The
Bobcats have never been in the top 20 of the league in either of those
categories, Whitfield said.
So what if Charlotte barely even has a point guard anymore? Raymond Felton walked because the 'Cats weren't in a position to pay him, and yet the most successful season the Bobcats have ever had (one that saw them swept in the first round of the playoffs, mind you) was very much dependent on Felton's talents. Stephen Jackson was the catalyst and Gerald Wallace the team's heart, but Felton's defense and ability to run the offense (even if Charlotte's operation on that end is far from pristine) were quite valuable.
Apparently none of that matters. Butts are going into seats, and more dollars in the Bobcats' name. Charlotte may not be on the up-and-up, but they live to fight another day, and that's something. It's not the direction any fan would want their franchise to go, but not every small market team can be the Spurs. Most face a lot of hardship, both on the court and off of it, and as a result, approaches like Charlotte's — good in the short-term, not so much in the long-term — aren't as uncommon as they should be.