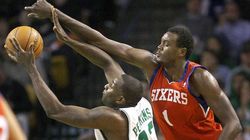 Samuel Dalembert lost three family members and about 10 friends when that devastating earthquake rocked Haiti last Jan. 12. If he wasn't at his best on the court for the second half of last season, you can forgive him.
That quake killed an estimated 230,000 and left 1 million people homeless. And while the fundraising concerts and media focus have moved on, Dalembert is still focused on helping the people in his native country — he has pledged to spend $2 million on relief efforts — and would be so recognition or no, as he told FanHouse.
But he is getting recognition, he was given Hall of Fame's Mannie Jackson Basketball Human Spirit Award
"It was almost like I was cheating because I knew that I was going to do it anyway," said Dalembert…

While world news is no longer focused nearly as much on Haiti, Dalembert said there remains so much work to do. He said the country looks "about the same" as it did immediately after the earthquake with the exception of maybe being "1 or 2 percent better."

That's why Dalembert hopes donations to Haiti will continue.

"Every bit helps," said Dalembert.
Dalembert has helped his family, moving his younger siblings to the Philadelphia area (they attend Lower Merion High School, where Kobe Bryant went).
Dalembert himself will be in Sacramento, with a clear head and in a system well suited to his style. With him and DeMarcus Cousins on the front line and Tyreke Evans in back, Sacramento could be a lot of fun to watch this year. And that game can help heal some of Dalembert's wounds, as well.