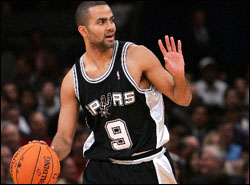 Amare Stoudemire has made the move. Carmelo Anthony is reportedly thinking about it.
And now it may be that Tony Parker is in a New York state of mind as well, at least according to the very good Alex Kennedy at Hoopsworld:
The Knicks will make Anthony their priority next summer but the team, according to one source, "will have Parker if they want him." Tony loves the situation in New York and, similar to Anthony, has already begun expressing interest in the destination to those in his inner circle.

This season, Parker is going nowhere. The Spurs want to make one more big run at it, and they believe that a lineup of Parker, George Hill, Manu Ginobili, Tim Duncan and newly signed Tiago Splitter (look for that lineup to close games, not start) along with Richard Jefferson, DeJuan Blair, Antonio McDyess and Matt Bonner they can do some serious damage in the playoffs. They likely can, if they can keep the core healthy.
But whenever that run ends, Tony Parker becomes a free agent. And Manhattan is becoming quite the draw.