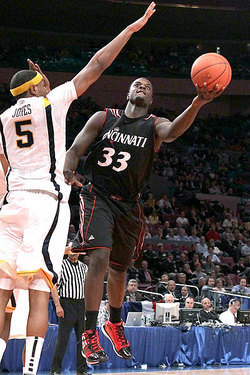 Wednesday's four-way trade saw just about every team involved walk away a winner. However, the effects of that trade are far more specific than just saying "This team got better," or "This team accomplished its goals." In The Flip Side, we'll look at one player from each of the four teams — the Nets, the Pacers, the Hornets, and the Rockets — and how their career is impacted by the move in both the immediate and distant future.
In a trade that saw a number of moving parts rotate among the four participating teams, the Pacers came out with the most obvious prize. They surrendered rumor mill mainstay Troy Murphy, a useful shooter and rebounder on a sizable expiring deal, and in return received Darren Collison, one of the many standout point guards from last year's rookie class. Collison did a superb job filling in for Chris Paul last season, and now he'll have a team to truly call his own, even if it's a slightly dysfunctional one.
Danny Granger will be thankful. Roy Hibbert's life just got a whole lot easier, too. In fact, every single Pacer who hopes to score, score, or score this season will benefit from Collison's presence.
Collison also isn't T.J. Ford, which is a good thing. He's going to run the offense, find his teammates, and get better every night, and Indiana will never have to worry about him sulking through another mid-January outing.
Yet it's somewhat disappointing that we won't have a proper opportunity to see if Born Ready really was born ready. One of the more interesting subplots coming out of this year's draft was Jim O'Brien's decision to transform Lance Stephenson, who up until this point has always been considered a traditional 2, into a point guard. Stephenson probably needed a fresh start after a sub-par year at Cincinnati, but the idea make a floor general out of him is, well, both remarkably odd and absolutely fascinating.
Based on his summer league performance (which is, empirically speaking, a dangerous way to begin a sentence), Stephenson looked very much like a scoring guard who happens to handle the ball. That's fine. He's a second rounder finding his way into the league, and is doing so at a new position, no less. It makes sense for Stephenson to do what got him here, even while slotted as a de facto playmaker.
Playing Stephenson at the point was an idea born out of necessity, but that necessity has since been removed. O'Brien seemed hopeful that Stephenson could develop into Indy's point guard of the future, but the Pacers just nabbed a promising PG via trade. Collison is going to comfortably slide into the role that Stephenson was hoping to one day fill, which could mean the end of the Stephenson point guard experiment all together. If A.J. Price and T.J. Ford are filling in the minutes behind Collison, where does that leave Stephenson?
It's not easy to say. Collison's arrival is an undoubtedly good thing for Stephenson's career overall though, even if it means we have to wait a bit longer to see him thrown into the fire. It's entirely possible that if Lance were delegated responsibilities that exceeded his fledgling point guard skills, his chances of staying at the position over the long-term would be quashed. Maybe O'Brien would try to shift Stephenson back to the 2 after some early troubles. Maybe Lance's confidence in his ability to adjust would be shaken. Or maybe Stephenson would simply succumb to one of the many fearsome perils that plague rookie second rounders.
Instead, Stephenson has an incredible luxury: time. Time to learn, time to develop, time to adjust. Hell, time for Lance to prove that he belongs in the NBA at all. He may be a point guard yet if O'Brien wills it so, and while Collison's arrival in Indiana makes Stephenson's positional status just a bit more ambiguous, it's the kind of development that really could do wonders for Stephenson over the long haul. Some rookies burn up the pine, oozing with potential, waiting for a chance to play. Others, like Stephenson, have a lot to gain by operating in the background, even if doing so ruins an interesting case study in positional fluidity.