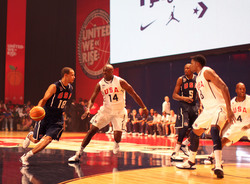 Technically, USA Basketball has nearly two weeks — until Aug. 26 — to trim the current roster of 15 down to 12.
But USA Basketball big Kahuna Jerry Colangelo told NBA.com he thinks the players who are to be cut should know before the team leaves for Europe Monday.
"Maybe we do let all 12 players know who we think are going to be the 12 before we depart," USA Basketball chairman Jerry Colangelo said. "And if we bring one or two or three other players, they'll know that they're in reserve. They can practice and so forth. But it's probably important before we depart to let the 12 players, whoever they are determined to be, to know they're part of the 12."

"We're not rushing it, because all these guys have done a good job," coach Mike Krzyzewski said. "But at some point, you have to move on. "That will be a tough decision, but those are good tough decisions to have."
So who will the cuts be?
One likely cut is the Clippers Eric Gordon. He has played well, it's no real knock on him, but Gordon and Stephen Curry are competing for one roster spot and Curry has been lights out shooting the rock. Team USA needs that kind of shooting in Turkey.
The other ones are harder to tell. One forward may go, most likely the Thunder's Jeff Green or the Pacers' Danny Granger. Granger had a dislocated finger the other day, the ring finger on his right hand. But he was back starting for Team USA Thursday night and shot 3 of 9 from the field. Again it is a case where Green has been good but Granger, if healthy, is the better shooter and might get the spot based on that.
Then it gets really messy. They could cut one more guard, likely either Rajon Rondo or Russell Westbrook, although they have looked good in the limited action we've seen. They could cut JaVale McGee who did not look good in Thursday night's scrimmage, but that would leave Team USA with one true center in Tyson Chandler then guys like Kevin Love trying to fill in. Or they could cut both Green and Granger. Or… you get the idea, there are a lot of options there.
We may find out what options Team USA chooses very soon.