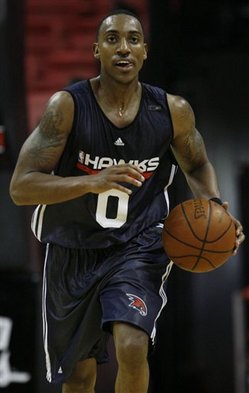 When the Atlanta Hawks open the season Oct. 27 in Memphis, Mike Bibby is going to be the starting point guard.
That is not shocking news, but rather a situation to monitor.
Bibby's game is in decline, while Jeff Teague will enter the season with backup quarterback syndrome — every fan loves the backup quarterback and thinks he should be the starter (except in Indianapolis). But Larry Drew confirmed to the Atlanta Journal Constitution that Bibby starts.
"(Teague has) got to earn that," L.D. said. "It's not just going to be handed to him. If he proves it, he has an opportunity. I will come back with the starting lineup we've had in the past. Unless somebody clearly, clearly beats somebody out, [then] that's something I would have to take a look at. But I am going with the normal guys [to start]."
Teague knows that. At Summer League in Vegas the coaches were all over him to be more aggressive, to take charge of the game from the point. The results were inconsistent, but Teague seemed to improve as the league wore on. He told us then he was getting the message.
"Mike's getting a little older and coach is telling me every day to work harder and I'll have opportunities I just need to go seize the moment and that's what I'm doing, just getting ready for that," Teague said in Vegas.
Teague sees a veteran team around him in Atlanta and tends to defer to them too much. Rather than create for them, he lets them do the work and floats through the game. Drew's new offense of off the ball movement will change some of that.
But Teague has to change it for himself.
What to watch is not who starts the game, but who finishes them. And more importantly, not in October but by February who is finishing them. Teague has his chance, he just has to grab it.
But for now, it's Bibby's job.