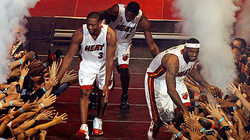 The Miami Heat are going to be very good. Nobody questions that. This team is going to win a lot of game this year. Put LeBron James, Dwyane Wade and Chris Bosh on one team and you're going to get that.
A title… not so fast.
Hall of Famers in Springfield, Mass., for the induction ceremonies this week, were not just handing the Heat the title, as they told Associated Press.
"I would say this: With the guys they got, they're going to be a hell of a team," (Karl) Malone said of the Heat. "I pick the Lakers."
When somebody asked Scottie Pippen if the Heat could win 72 games…
"I'd like to see them win a championship first," he said.
What the players did back LeBron on was his decision.
"I don't know what all the grief was about," Pippen said. "No fans, no organization, no one can decide what a free agent can do or should do or where he's going to go, and there's no reason for anyone to hold a grudge against LeBron for making that decision."
Malone said the same thing, noting when he left Utah for a year with the Lakers to try and win a ring. But Pippen added he thinks the Heat have some matchup issues right now.
"There are a couple of teams in the East that they're going to have to contend with, that they're going to have matchup problems with," Pippen said. "You think of Boston, Orlando. I don't see anybody that they can get to run up and down the court with (Dwight) Howard right now and that's a game changer."