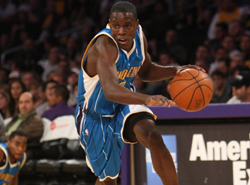 Darren Collison may be the new savior for the basketball heartland that is Indiana, but he is a California boy. Left Coast. Land of fruit and nuts. He grew up in Southern California and went to UCLA for college.
Just like Reggie Miller.
He told the Indianapolis Star he wants to bring the excitement Miller did to the Pacers.
"People can look forward to a player that loves to win," Collison said in a phone interview Thursday. "I just want to bring that excitement back to the city."

"What I am is a hard-working player, someone that loves to win and will do anything to win games," Collison said. "Last year with New Orleans, it didn't sit well with me because we didn't make the playoffs. I'm not accustomed to that coming from UCLA."
Indiana will have a hard time making the playoffs as well in a suddenly-deeper Eastern Conference. But the Pacers now promise to be entertaining — coach Jim O'Brien wants to run but T.J. Ford was not the man who could pull it off. Collison can, he is one of the quicker guards in the league. When Chirs Paul went down he averaged 18.8 points and 9.1 assists per game.
If he can put up those numbers, if Danny Granger can stay healthy, if the Pacers can get a little rebounding, if the Pacers can play some defense they become a pretty good team that will be fun to watch. A team that could be in the mix for the last playoff sport or two in the East.
And that would be a lot more excitement than the Pacers have seen in a while.