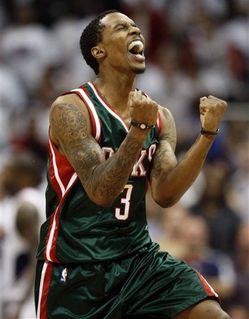 Brandon Jennings plays a bold game. That's part of the fun of watching him — he plays with a real swagger.
That swagger carries over to his plans for this season, as he told the Milwaukee Journal.
"This year I'm working hard to come back," Jennings said. "I want to be a double-double guy. I feel like with the talent we have I can be that.

"All-star weekend is in Los Angeles, and that is a goal to be an all-star. Win 50 games, win the Central Division and get out of the first round and see what happens."
Making the All-Star game may be hard — not because Jennings is not good enough, but because of the depth at guard in the East. Jennings would need to beat out point guards like Derrick Rose, Rajon Rondo, Jameer Nelson, last year's starter at point Dwyane Wade, plus other up-and-comers like Jrue Holiday and now Darren Collison in Indiana.
But 50 wins and getting out of the first round? The Bucks won 46 games last season and took Atlanta to seven games in the first round (without an injured Andrew Bogut in that series). Then this summer the Bucks kept John Salmons and brought in Drew Gooden. Add in a matured Jennings and a little health and the Bucks could reach those goals.
Jennings gets accused of arrogance, but that's not how he comes off. Confident, a bit young and at times immature, sure. But if you are really going to succeed in this league you need to be confident. Very confidant. That's just what Jennings is.
It shows in his game, in its swagger.