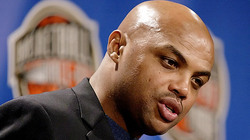 Yesterday Charles Barkley called LeBron James a punk for daring to do what Barkley never did and team up with other superstars to get a ring. Because I guess never reaching your goal but falling short by yourself is noble. Whatever.
Barkley's not done, though.
LeBron has to win multiple titles or this is a failure, Barkley told Chris Tomasson of FanHouse.
"He's got to win multiple championships to make that situation work, at least two," the Hall of Famer and TNT analyst said in an interview with FanHouse on Thursday night at the Basketball Hall of Fame about James, who bolted Cleveland last month as a free agent to force a sign-and-trade to the Heat. "(If not), his legacy is going to take a serious hit."
He also has to cure cancer and reverse the trade deficit between the United States and China, or it's a failure.
Does Barkley feel at all bad about using the word "punk?"
"I should have never used that word," said Barkley, sounding at first as if was an apology. "It was bull (bleep). Bull (bleep) is a better word."
I really want a Barkley/LeBron sit down interview now. Make it happen, TNT.