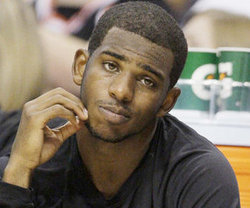 Yesterday's four-way trade
saw just about every team involved walk away a winner. However, the
effects of that trade are far more specific than just saying "This team
got better," or "This team accomplished its goals." In The Flip Side,
we'll look at one player from each of the four teams — the Nets, the
Pacers, the Hornets, and the Rockets — and how their career is
impacted by the move in both the immediate and distant future.
Chris Paul wants out of New Orleans. Newly-anointed Hornets GM Dell Demps acquires Trevor Ariza in exchange for James Posey and upstart point guard Darren Collison. Chris Paul still, probably, wants out of New Orleans.
The Hornets' intent here was obvious, but if scoring Trevor Ariza is the endgame of the team's plan to convince Chris Paul to stay home, someone miscalculated. Badly.
There's honestly nothing wrong with Ariza. He's a fine athlete, a good perimeter defender, a so-so three-point shooter, and a perfectly useful cog as long as he's not asked to power the machine. The more responsibility Ariza holds in the offense, the worse off both he and the team are going to be. He's just not a dynamic offensive talent, and that's fine.
Because what Ariza is — a perfectly average player — comes at a perfectly average cost. He has a contract that fits his abilities, and the only problem with that contract is that it extends over the next four seasons. $28.1 million? Not too bad in the current NBA climate. Yet with earth-shaking changes to the Collective Bargaining Agreement right around the corner, paying a guy like Ariza that much money may not be reasonable in a year's time.
Finances aside, the Hornets need help. They need players like Ariza who can fill in the gaps, sure, but what they really need is a talent who can take over the second fiddle from David West without skipping a beat. West isn't going anywhere in the foreseeable future, but this team, as it's currently constructed, isn't working. There's clearly not enough depth (who on earth is going to back up Chris Paul next year?), but talent at the top remains a glaring concern. Paul is a top-five player, but West, Ariza, Emeka Okafor, and Marcus Thornton aren't enough. That combination could conceivably get the Hornets to the playoff brink, but what then?
Here's what I'm getting at: Though Ariza might be the most intriguing wing player the Hornets have had during the Paul era, little has changed. New Orleans still has contracts that could hurt in the long-term, little financial flexibility, and now they've lost Darren Collison. The starting five NOLA trots out on opening night may be more complete because of this move, but I fail to see how it's evidence of some methodical, long-term plan.
The Hornets traded in their insurance policy for a fresh coat of paint, but Paul's no fool. He knows what Ariza is and isn't, what he represents and what he doesn't. Demps is trying (and that's something), but if Paul really is insistent on finding a new team to call his own, Dell will have to do much better.