f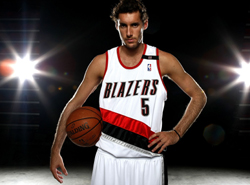 In a world where everything seems to change at the speed of technology, we need constants in our lives. Real touchstones. Family, friends, our community, and Rudy Fernandez complaining about Portland and asking for a trade.
You know, things that are going to be there every day.
Fernandez spoke with Marca, a sports publication in Spain, and said he just wants to play a lot of minutes and be loved. Is that so wrong?
"If I could decide my future and some NBA team could assure me some minutes and the team played a way that fits my game, then I'd like to continue playing in the States."
He also said that his treatment in Portland screwed him up psychologically and that it is 50/50 on whether he returns to Europe.
Rudy, just a personal note: If you're trying to get traded, stop talking. Because saying you demand minutes and may go to Europe when your deal is up and that your mind is screwed up does not help your trade value. You've got game, some teams might have really wanted you, just not at the price Portland has been asking.
And if I were a GM and just read your interview, the chances I'd give up anything of value to get you just went way down.