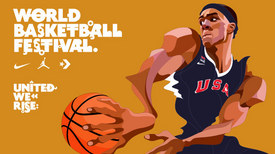 Ah, August. It's that magical time of the year when kids get back from camp and start to get ready to go back to school, the baseball pennant races begin to heat up, and there's at least one article about the improvements Rajon Rondo has made to his jump shot. 
Rondo has emerged as one of the best all-around point guards in basketball, but his jumper remains a glaring weakness — Rondo essentially doesn't have to be guarded beyond 15 feet, and shoots free throws like a center. 
Some of Rondo's shooting woes stem from physiology — the same long arms and massive hands that Rondo uses to make his drives so effective have proved detrimental to his efforts to establish a reliable jumper. Some of Rondo's problems are due to his deeply, deeply flawed shooting stroke, which does seem to get just a bit less ugly every year. Or maybe Rondo has just spent his time figuring out more ways to get to the basket and make quality passes rather than trying to develop a consistent perimeter game.
Whatever the reasons behind Rondo's iffy jumper are, Doc Rivers would like to see Rondo make some improvements on his jumper during the off-season, especially after seeing Kobe Bryant sag off of Rondo with impunity and clog the paint during the 2010 NBA Finals. The Boston Herald's
Dan Duggan has the report
:
"That hurts you in the playoffs when the best player on the other team is allowed to rest and clog up the middle," Rivers said. "That's what made their defense so strong, that their best roamer was Kobe. We have to correct that problem. That hurt us."

Rivers is only looking for modest improvements from Rondo.

"We want him to shoot the right shots," Rivers said. "The 3-point shot, I could care less. I could care less if he takes another 3 the rest of his career as far as I'm concerned. But we have to get him to make the elbow jump shot."
Rivers would also like to see Rondo become a better free throw shooter, as he believes that Rondo stopped driving in the finals because he had no confidence in his ability to knock down free throws if he was fouled. Ultimately, Rivers knows that his team's young star is putting in work on his jumper, but is trying to be realistic about what effects that work will have: 
Rondo will again work with shooting specialist Mark Price and Rivers is hoping for further development.

"Rondo puts in hours on it," Rivers said. "That's all he can do. But he's going to correct it. It's not going to be overnight. He's going to be a little better next year and he'll be a little better each year. I've never seen a guy go from bad to great. That just doesn't happen."