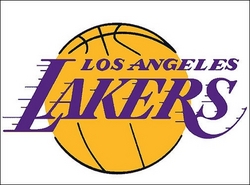 Devin Ebanks and Derrick Caracter have come into a great situation: Go to the NBA champions on a season when the team is looking to fill out the end of the roster with affordable guys to develop.
The Lakers signed West Virginia's Devin Ebanks to a deal on Thursday. On Friday, Caracter will get his deal, according to Brian Kamenetzky ESPNLosAngeles.com.
Both of these will be for the rookie minimum and while both are non-guaranteed both guys are expected to make the Lakers roster. They'd have to screw up pretty bad not to, honestly. With them the Lakers have a 14-man roster, although that may be 13-man roster in practice because Luke Walton may miss most or all of the season due to his back issues.
Both Ebanks and Caracter impressed at Summer League in Las Vegas.
Ebanks is long and athletic with a lot of promise. Particularly as a defender, he showed flashes of that in Vegas. No NBA rookie is ever a really good defender yet — to many tricks of the trade to learn against the men at that NBA level — but Ebanks has potential. His offensive game needs some work.
Caracter looked like a guy that may get a few minutes if Lakers bigs get in foul trouble or on back-to-backs — kind of the Josh Powell role for LA, he showed that kind of potential already. He needs to get NBA strength and in NBA condition, but for three quarters one night he held his own against No. 5 pick DeMarcus Cousins. He has a big, strong body and can defend and rebound pretty well, and he'll get some garbage buckets while he works on his offensive skills.