Hate them all you want — you want to see them.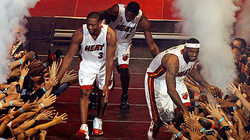 The Heat are in demand ' their gear is topping NBA sales charts (especially the LeBron No. 6 Heat jersey). And people want to see the Heat. Television ratings for their games will top what the NBA has done since Jordan suited up.
If you want to see them in person you better have plenty of disposable income. As the Orlando Sentinel explains (via Magic Basketball), tickets to see the Heat are crazy expensive.
StubHub is reporting that its two other highest selling NBA games for the upcoming regular season also involve the Heat.

Tickets for Miami's Oct. 26 game against the Boston Celtics at TD Garden — the regular-season opener for both teams — are selling on StubHub for an average of $411, the spokesperson said. Tickets to the Heat's Christmas Day game against the Los Angeles Lakers at Staples Center are selling for an average of $479.

The StubHub spokesperson says the online marketplace's hottest preseason ticket is for the Magic-Heat game on Oct. 22 in Tampa at the St. Pete Times Forum, with tickets selling for $101 on average.
If you pay $100 a ticket to see preseason basketball… well, I am also a Nigerian Prince and I have a fantastic opportunity for you to make millions of dollars.