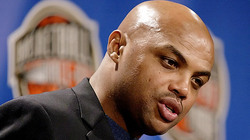 It's August, but Charles Barkley is in mid-season form.
He went on ESPN Radio in Dallas Thursday (via FanHouse) and aligned himself with the many people who now see the Miami Heat as the league's villains. And he's having none of LeBron's "taking mental notes of everyone taking shots at me" either.
"I heard about LeBron's little tweet today that he's remembering everybody who said anything bad about him. And he said 'everybody. Well, I want him to make sure that he puts my name on that (list).

"I thought that his little one-hour special was a punk move. I thought them dancing around on the stage was a punk move, and I thought he should've stayed in Cleveland. Him joining Dwyane Wade's team was very disappointing to me."
Barkley did not recruit and team up with another superstar while playing in Philadelphia or Phoenix. He also does not have a championship ring.
Barkley speaks with the new basketball populist voice — there are a lot of people inside and outside the league now rooting against the Heat. There will be plenty more negativity like this for James to take note of.
And yet when the Heat are on the television ratings will go up, when they are in your town tickets will sell out. And they will win. A lot. And if they can get a ring in the next few years, anything Barkley says will go in one of LeBron's ears and right out the other.