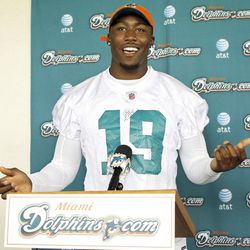 Well, this is interesting. According to ESPN.com's Adam Schefeter, Miami Dolphins wide receiver Brandon Marshall plans to play NBA basketball if there is an NFL lockout next season:
 Dolphins wide receiver Brandon Marshall said Thursday that if NFL teams lock out the players next year, he will try out for the NBA.

Marshall said he plans to audition for either the Denver Nuggets or the Miami Heat.

"My first team will be the Nuggets and my second team will be the Heat — I'm serious," Marshall said.

Asked to clarify whether he will pursue a basketball career if there is no NFL season in 2011, Marshall said: "Not pursuing — I'm going to be on an NBA team. Seriously."

Marshall said he was good enough to play shooting guard professionally.
If Marshall doesn't end up with an NBA job, it evidently won't be because of a lack of self-confidence. Some NBA players do have football backgrounds, although it's generally the smaller players that find basketball is better suited to their talents — Allen Iverson was the quarterback of his state champion high school team, and Nate Robinson was a cornerback for the Washington Huskies. LeBron James was an all-state wide receiver for St. Vincent/St. Mary's, although he didn't play football during his senior season. 
Marshall is 6-4, and players his size have generally had more success going from basketball to football — Antonio Gates was a basketball player before he started his football career, Tony Gonzalez played basketball for Berkeley, Teyo Johnson played both football and basketball for Stanford, and Julius Peppers was a walk-on and a key reserve for the UNC Tar Heels.
In general, athletes as tall as Marshall are either straight-line fast, bulky, and strong enough to play NFL football or quick, lanky, and coordinated enough to play NBA basketball, but not both. However, there are exceptions to every rule, and Marshall clearly believes he is one. 
Of course, the irony in all of this is that there's a very good chance the NBA will have a lockout to start the 2011 season, which makes Marshall's plan somewhat flawed — maybe Marshall should start working on controlling his breaking pitches and having his agent find out which MLB teams might need a middle reliever.