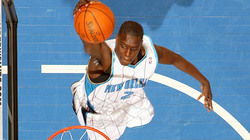 It's basketball — there is a winner and a loser. That's the way it works.
Except the four-team trade that went down today every team can claim it won, at least something. But just like on Animal Farm where some animals are more equal than others, some trade winners are bigger than others.
Pacers: in Darren Collison, James Posey; out Troy Murphy
Indiana is maybe the biggest winner — as is Collison, who gets to go there. Jim O'Brien was trying to run an up-tempo offense with T.J. Ford running the show. It was ugly. The Pacers desperately needed someone quick who could handle the offense, and Collison is that guy. Collison is going to get the run he deserves (love him, wouldn't start him over Chris Paul) in a system suited to his talents.
The Pacers take on James Posey, who will give them some solid play at the three. They give up Troy Murphy, which is a hit — the Pacers will run and may go small a lot, with Danny Granger playing a little four. The bulk of Murphy's minutes will go to either Tyler Hansbrough or Josh McRoberts, whoever plays less bad. But the Pacers would have traded Murphy's expiring deal for Collison in a heartbeat, so this is a win.
Nets: in Troy Murphy; out Courtney Lee
New Jersey also gets a big win.  Murphy is an upgrade over Derrick Favors at the four right now. Favors could be a loser in the deal if he takes this personally, the key is increasing his minutes as the year goes on and as he starts to get a feel for the NBA game. You don't want to stunt his growth. But Murphy is in the last year of his deal, so you get to not rush the somewhat raw Favors then next year have $15.5 million in cap space (as the system currently stands, could be very different after the new CBA goes into place).
Another winner is Anthony Morrow, the shooting guard for New Jersey who doesn't have to battle Courtney Lee for minutes. More Morrow is good for all basketball fans.
Houston: in Courtney Lee; out Trevor Ariza
Houston gets Lee, who they think may be a better fit for them than Trevor Ariza. Doesn't really matter, Lee will be getting limited minutes behind Kevin Martin and have to earn his burn the hard way. But this works for the Rockets because they save a boatload of cash. Ariza is owed $20 million over the next three years, while Lee has one year left on his rookie deal at $1.35 million, plus a team option for the year after that.
This also helps a little with the logjam the Rockets had at the three. It's Shane Battier's job now, and he will get the bulk of the run.
Hornets: in Trevor Ariza; out James Posey, Darren Collison
The Hornets get Ariza, who is a good upgrade for them at the three, over what's left of Peja. Ariza was not working as a first offensive option in Houston, but he'll look good running alongside a real first option Chris Paul (providing Monty Williams lets them run as he should). They also get rid of the less desirable contract of James Posey.
Not sure that bringing in Ariza makes Paul say, "Man, no way I leave now," but it shows the team is trying. But if it is not enough, if CP3 does bolt in two summers (or you have to trade him before he bolts), the Hornets have now traded away a very good replacement.
The question for the Hornets is this: Could they have gotten more for Collison? They essentially used Collison to upgrade the three some and save a little money. Collison was in demand, could they have gotten more? Probably.
But they can still claim a win.