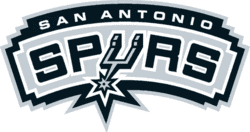 Danny Ferry is no Pat Riley.
Ferry spent years in Cleveland trying to build a team around LeBron James that would make the superstar happy. He built some very good teams — teams with the best record in the NBA the last two years — but not ones that could win it all. So Cavaliers owner Dan Gilbert sent Ferry walking (and that really helped keep LeBron).
Now the San Antonio Spurs are trying to lure Ferry back to their front office, according to Marc Stein of ESPN.
Ferry started his front office career with the Spurs, learning their ways. Which means an owner that stays out of the basketball side, sticking with your coach and finding the right role players — not just stars — to put around your star. So, basically, the opposite of what Gilbert wanted.
Ferry interviewed in Portland and New Jersey for open general manager jobs, but both franchises went other directions.
San Antonio has room in their front office after Dell Demps left them this summer to be the head man in New Orleans. Ferry is still close with Spurs coach Gregg Popovich.
The only real question is does Ferry now want to take a season off from the game and be a family man, or jump right back in. If he jumps, the Spurs seem the likely landing spot.