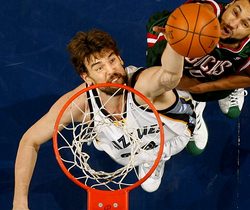 The selection process for Team USA rages on (and likely will until the 11th hour), but three teams — Spain, Argentina, and Puerto Rico — have finalized their rosters for the FIBA World Championships. Take a look:

SPAIN
G José Calderon
G Rudy Fernandez
F Jorge Garbajosa
C Marc Gasol
F Álex Mumbrú
G Juan Carlos Navarro
FC Felipe Reyes
G Ricky Rubio
F Fernando San Emeterio
F Victor Claver
FC Fran José Vázquez
G Sergio Llull
ROSTER CHANGES FROM THE 2008 OLYMPICS
Added Fernando San Emeterio, Victor Claver, Fran José Vázquez, and Sergio Llull. Dropped Pau Gasol, Carlos Jiménez, Raúl Lopez, and Berni Rodriguez.

MISCELLANEOUS
Pau Gasol's presence would have made Spain the obvious favorites to take the World Championship, but as it stands the Spanish national team is more or less on-par with the Americans. It's worth noting that of the 12 players on Spain's roster, nine of them have NBA ties.

ARGENTINA
G Carlos Delfino
C Román González
C Juan Pedro Gutiérrez
F Leonardo Gutiérrez
F Federico Kammerichs
F Andres Nocioni
C Fabricio Oberto
G Pablo Prigioni
G Paolo Quinteros
F Luis Scola
G Juan Pablo Cantero
F Hernán Jasen
ROSTER CHANGES FROM THE 2008 OLYMPICS
Added Juan Pablo Cantero and Hernán Jasen. Dropped Antonio Porta and Manu Ginobili.

MISCELLANEOUS
With national team regular Manu Ginobili watching from the sidelines this summer, Argentina will rely even more heavily on NBAers Luis Scola and Carlos Delfino. Delfino has played a point-guardish role for Argentina before, and he should be able to replicate Ginobili's ability to run the offense while still acting as a scoring threat (though obviously without Manu's high-level production and signature flair). Argentina may have lost its top player and a natural leader, but there's still plenty of talent here.
PUERTO RICO
C Peter John Ramos
G J.J. Barea
G Carlos Arroyo
G Christian Dalmau
G Larry Ayuso
F Angel Daniel Vassallo
F Ricardo Sanchez
C Daniel Santiago
F Renaldo Balkman
F Carmelo Antrone Lee
F Nathan Anthony Peavy
G Filiberto Rivera
ROSTER CHANGES FROM THE 2008 OLYMPICS
N/A – Puerto Rico didn't qualify.

MISCELLANEOUS
The Puerto Rican team is a bit guard-heavy in its orientation, but those guards are talented enough to make PR an interesting squad. Still, they're a good ways down the World Championship pecking order, and aren't quite in the same tier as either Spain or Argentina. However, as Jay Aych noted at The Painted Area, Puerto Rico should have something of an advantage chemistry-wise after competing together through most of the summer (they've already played through Centrobasket and the Centro American Games). This is also Denver Nugget Renaldo Balkman's first summer playing for Puerto Rico.