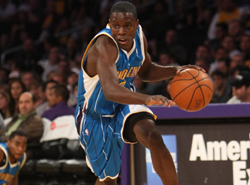 UPDATE: 1:54 p.m.: Multiple reports now have this as a deal all four teams have signed off on, and it has gotten league approval.
1:33 p.m.: In the early morning hours in Hawaii — while the rest of the state was sleeping or surfing — ESPN's Chad Ford got up and dropped a bombshell:
Breaking: Hornets, Rockets, Pacers & Nets working on 4 team deal. Ariza to NO. C. Lee to HOU. Collison & Posey to IND. Murphy to NJ.
Four team deals almost never happen. Fun to talk about, fun to think about, but way too many moving parts to make a reality. Except in this case, because every team can claim a win. Let's break it down.
New Orleans would give up the promising Darren Collison at point guard to get Trevor Ariza — who would be a good running mate for Chris Paul — plus they get to shed the contract of James Posey. Ariza is an upgrade for Posey, but was it worth giving up Collison just for that? Could they have gotten more?
Houston saves a lot of money — they give up Ariza, owed $20 million over the next three years, for Courtney Lee, who has one year left on his rookie deal at $1.35 million, plus a team option for the year after that. Plus Lee has a lot of promise. You can shelve your Shane Battier trade talk now.
Indiana would LOVE this deal — they get the point guard they desperately need to run their up-tempo offense in Collison. The price is they have to take on James Posey's two years, $13.3 million, plus they give up Troy Murphy.
New Jersey gives up Courtney Lee and gets Troy Murphy back. They would make that trade any day. Murphy starting at the four for a year allows them to bring rookie Derrick Favors in off the bench and not just be thrown to the wolves. Plus, as Murphy is in the last year of his deal, the Nets save $2.2 million to use next summer on free agents. Or after the lockout, more accurately.
This deal actually is as good a four team deal as you will see, because every team can claim a win. Still shocked it went down.