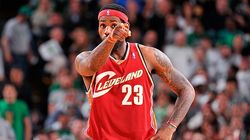 Ever since his announcement that he was taking his talents to South Beach, LeBron James has taken a lot of criticism.
And he's been making a list and checking it twice, of who has been naughty and nice, as he announced on his twitter account.
Don't think for one min that I haven't been taking mental notes of everyone taking shots at me this summer. And I mean everyone!
That, predictably, led to more backlash on twitter, where plenty of people laughed at the immaturity of the comment, some mocked him for trying to be an Internet bully, while others asking if he had taken "mental notes" on his shortcomings with the Cavaliers. The reaction was far more negative than positive afterward online.
ESPN's Arash Markazi, in his pulled piece on hanging with LeBron for a night that the network pulled, said that LeBron seemed more like a child wrapped in a man's body. The more we hear from him, the more that sounds like the truth. LeBron is not malicious or mean spirited, just immature. Not someone who takes into consideration the reaction to what he does or says, but rather just does it.
That twitter announcement just seems to be the latest step along those lines.
Oops. Now I've probably been taken note of, too.