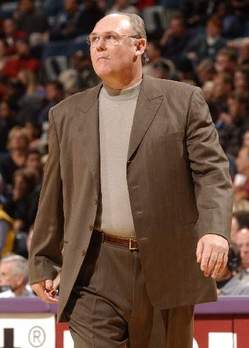 Every Summer League we watch Coby Karl just make smart plays and knock down shots, then we wonder why he can't stick on an NBA roster.
Well, the sad trend appears ready to continue.
If Karl is not waived by the Denver Nuggets by Sunday (before Aug. 15) his contract for next year becomes guaranteed at $854,389. The Nuggets are not likely to pay that for a guy who would struggle to get into an already deep rotation.
Maybe the best sign you're going to be waived: You dad says he expects it to happen. And he's the coach. That's what Chris Tomasson is reporting at FanHouse.
Sources said Tuesday that Denver coach George Karl is expecting his son, Nuggets point guard Coby Karl, to be waived by a Sunday deadline in which his contract would become fully guaranteed for next season.
Karl declined to speak on the matter.
The Nuggets want to have a roster of 13, the league minimum, giving them flexibility to make a trade later. They realize if they want to knock the Lakers off their perch, they will need to make a trade of some kind. Plus, it might get Carmelo Anthony to sign that extension he is sitting on.
But that means either Karl or Brian Butch have to go. And it would be cold to cut Butch, who injured his knee at Summer League in July and is rehabbing now. Plus, Butch is a center and the Nuggets need more size. Plus Butch makes about $80,000 less than Karl.
We wanted to see Coby become the first player ever coached by his father in an NBA game. What we want more is him to end up on an NBA roster somewhere, like he deserves.