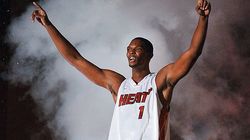 They may not yet realize just how hard it will be (well, one of them does), but Miami's big three gets what the expectations they have created are:
"We have to win a championship," forward Chris Bosh said….

"I think so, because of the situation we've brought to ourselves," he said. "With this group that we've assembled, we know we have to win a championship.

"We signed up for it. We know that everything is championship. We need to win a championship."
That was Bosh on the Dan Patrick Show today, as reported by our own Ira Winderman at the Sun-Sentinel.
Bosh also scoffed at the idea of a 72-win season for the Heat, noting that the core of the Bulls team that set that record had been together for years.
There was 72-win talk by the fans of the Lakers and Cavaliers last season, then those teams won 57 and 61 games, respectively. People don't realize how ridiculous 72 wins is, how unlikely we ever are to see that record broken. Also, Phil Jackson theorized that only a team in the Midwest — where the time change from coast-to-coast on travel is not as severe — could pull off that many wins. Miami, obviously, right on a coast.
The Heat are going to win a lot of regular season games, however. What Bosh and his pals also know is those wins will be considered a failure without a trophy to go with it.