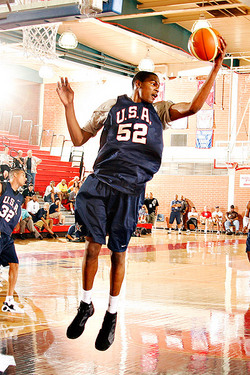 There's a lot of interesting stuff in there, but perhaps the most interesting note from Schuhmann's diary is that Kevin Durant was the power forward in every lineup that he was a part of during Tuesday's scrimmages. 
Durant, of course, has almost exclusively been a three over the course of his NBA career, so the possibility of him playing the four during the FIBA games is a fascinating one. 
Durant's lack of bulk and strength, as well as the Thunder's desire to keep Durant from getting beat up or into foul trouble, have prevented him from playing much power forward at the NBA level. 
Fortunately for Durant, FIBA play means a wider key and more finesse-based forwards, both of which will make Durant's "transition" to the power forward spot much easier; LeBron James was able to play the four very effectively for Team USA in the 2008 Olympics, despite his lack of experience at the position in NBA play. 
Durant getting some experience at power forward in FIBA play could have some interesting implications for the Thunder once the NBA season starts. Jeff Green is more of a tweener forward than a true 4, and putting Durant on the blocks and Green on the perimeter from time to time could keep teams from loading up on the Thunder's often stagnant offense. Durant obviously has the height, length, and touch to be a great post scorer (he's also much stronger than he looks), but only 49 of Durant's 828 made field goals last season came in post-up situations.
Regardless of how much Durant learning to play the 4 will impact his game, one thing is certain: If Team USA rolls out small-ball lineups like Rose/Billups/Iguodala/Durant/Odom and Rose/Curry/Billups/Durant/Love during the actual FIBA tournament, they are going to be a lot of fun to watch.