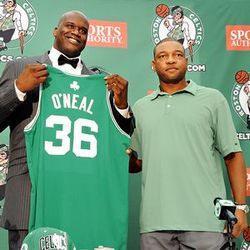 There was nothing crazy from Shaquille O'Neal at his introductory press conference as a Celtic.
Wearing a bow tie was about the only unexpected thing he did at the event. Every word out of his mouth was what you want to hear if you're a Celtics fan. Like, would he be willing to come off the bench?
"If that's what it takes for us to win that's fine with me."
Or if he and Kendrick Perkins — who have had some physical battles over the years — can get along.
"We've had some battles. But that's all over now because we're teammates."
Or if after a long search, one where he was looking for more money, he would be happy with a minimum deal with Boston?
"For me it was not really a tough decision to make, I just wanted to be with a great team, to continue to win."
The concerns with Shaq in Boston were always less about on the court — although his legendary freelancing on defense and not sticking with the system could get interesting. Would he be a disruption to a solid locker room, or would he do and say the right things? Would he bring the circus to town around a team that has prided itself on focus?
One press conference really does not answer those questions. But Celtics fans have to like the way it started. Well, except for maybe the bow tie.