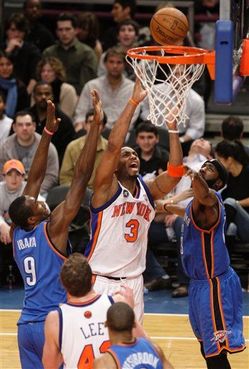 Apparently Detroit is done thinking it over and is good with it.
Detroit has reached a one-year, $1.3 million deal with Tracy McGrady, according to multiple reports. He worked out for Detroit last week and told Detroit coaches he was willing to play whatever role he was offered (a contrast in tone from what he told Chicago, where he said he wanted to compete for a starting spot).
This deal is for the veterans' minimum. At that price, this is pretty much a low risk move with the potential for a high reward if McGrady's knee really comes back. Unless McGrady decides he needs to play more and goes Allen Iverson in Memphis on the team. Which is what Chicago feared after working him out and talking to him.
McGrady joins a crowded swingman position for Detroit. Rip Hamilton and Tayshaun Prince will start on the wings in Detroit, with Ben Gordon, Charlie Villanueva, Austin Daye and even Rodney Stuckey able to play those roles as well.
McGrady could be good depth if the Pistons trade Prince at the deadline (something they said they would only do if he asks, but there is interest out there). But at first minutes are going to be hard to come by.
McGrady, 31, is one year removed from microfracture surgery on his left knee. How much he is able to bounce back from that will determine how much of the court he sees — reports out of his workouts were that his movement, particularly laterally, was slowed. However, he can still knock down shots, and that has value.