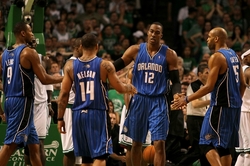 You want to know what kind of dedication it takes to compete for a title?
How about getting together as a team in the middle of the offseason and working out — not because a coach told you, but because one of the players invites everybody just shows up. No coaches, just a few days of workouts and bonding.
That's what the Orlando Magic did this summer, according to new Magic teammate Quentin Richardson (speaking to SLAM Magazine)
Jameer [Nelson], he has a thing out in Philly, where he invites all of the guys out on the team, no coaches, and we work out everyday. He has different events set up for us to hang out and bond and get close. Those are some of the things you need to do if you wanna be a championship-caliber team. I'm really excited that they already have these types of things in place, and I'm just going to that situation trying to contribute.
This wasn't new, they do this every summer. And it's not a coincidence that the Magic have been title contenders the last two years and enters this season as one of the top threats in the East.