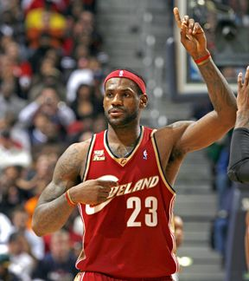 Rabbi Yishayahu Yosef Pinto is the rabbi to the financial stars in New York, the guy New York's Jewish real estate experts, financial wizards and the like consult for advice.
Apparently LeBron James hired him for spiritual guidance for a recent series of high-level marketing meetings, according to TMZ (so take with salt). And paid him "in the neighborhood of six figures" to do so.
LeBron is not Jewish. Rabbi Pinto does not speak a word of English.
Considering all the moguls Rabbi Pinto meets with, he must be giving out some sage wisdom. To not do things out of greed and to look out for people first, that would be a nice change after the banking scandals. The business world could certainly use some spiritual guidance, so more power to him.
But why does LeBron bring him in? What is the good Rabbi providing that LeBron's team of advisors cannot?
Just chalk it up as another part of the Summer of Fun for LeBron we just don't really understands. But whatever, with LeBron's new deal six figures to him is like pocket change to you and me.