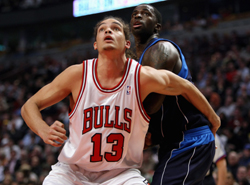 Joakim Noah missed 18 games last season, primarily due to the foot injury plantar fasciitis.
But even with a summer off for treatment and rest he is not feeling 100 percent about it, as he told ESPNChicago.com in an interview.
"I'm very confident, but it's still something that … it's no joke and [the injury] put a lot of things in perspective for me. Injuries are something that are very serious and something that I want to limit, so I understand that it's going to be a long season this year, and I think we're going to do real special things. To do that, I know that I have to be 100 percent. I think we're going to be OK, though."
Plantar fasciitis is the irritation of the thick band of tissue that covers the bones on the bottom of the foot (the stuff that causes the arch in your foot). The swelling is caused by excessive use and is a fairly common problem in the NBA, where players are running up and down a hard court for a living.
Oh, and it hurts. A lot. A sort of stabbing pain in the heel. The best treatment is rest, although splits, anti-inflammatory drugs and inserts for shoes are also a part of the routine in the NBA.
With Noah taking the summer off from the French national team, he should be able to rest his foot a little more before the start of the season. He also says in the interview he took six weeks off after the season, which had to help. But he still sounds a little concerned. And hesitant. And that's not necessarily a bad thing, if that means he'll be trying to get his foot some rest and take precautionary measures during the season. Because if the Bulls are going to live up to the hype, they are going to need a healthy Noah.