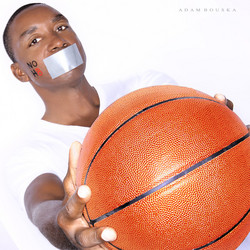 Isiah Thomas wasn't making enough headlines, so he has jumped into the gay marriage debate in California.
Thomas appears in a photo as part of the NOH8, a campaign against the gay marriage ban in California. Like everyone in the photographic campaign — from the famous to folks on the street who support the cause — Thomas wears duct tape over his mouth to symbolize the voices silenced by the ban in California and around the world, according to the NOH8 Web site.
That ban has been a front-burner political topic in California. Voters made the ban on gay marriage — called Proposition 8 —  part of the state constitution two years ago, but last week a court struck down the proposition as unconstitutional (the case is on track for the United States Supreme Court). There is a good chance this issue will be back on the California ballot before the highest court in the land hears the case.
A number of famous people have been part of the campaign, but few from the world of athletics.
Thomas did the campaign with his son Joshua, and there are photos of them separate and together, accompanied by this text.
We are Isiah and Joshua Thomas.

We posed for the NOH8 Campaign because we believe that all hate and discrimination is wrong. It is time for full equality and equal rights for everyone, regardless of race, sexual orientation, religion, or gender.