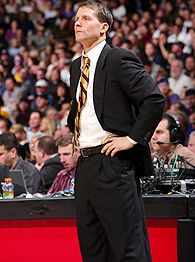 Talk to former NBA coach Eric Musselman and this much becomes clear — he loves basketball. Loves talking about it. Loves coaching it.
And he's going to get to do what he loves in the D-League next season with the Reno Bighorns, according to Scott Schroeder of FanHouse. Reno just a short drive from Lake Tahoe, one of the most beautiful places on the planet, so not a bad spot to land.
Musselman had conversations with a few teams this summer about an assistant coaching job, but nothing ever rose to the level of serious. So he has decided instead to go the route of former Toronto coach Sam Mitchell and return to the D-League to hone his craft.
However, this landing spot is a bit interesting because Reno is the D-League team for the Sacramento Kings and the Golden State Warriors — the two teams Musselman coached in the NBA, on his way to a 108-138 record over three seasons.
In Sacramento, Musselman's credibility was undercut by a DUI before the first practice, and from them on the team seemed to lack a real direction and understanding of what it was trying to do. Brad Miller (a solid veteran) said he didn't understand his role, and that was 50 games into a season. The Kings let Musselman go after one season (then hired Reggie Theus, which exacerbated their problems, but that's another story).
Musselman was the color commentator on Versus for D-League games last season, so he has some understanding of the league. He also understands that while winning matters, player development is the real reason for the league. Golden State in particular loves to snatch up D-League players and watches the entire league closely.
If he does a good job here, Musselman could find his way back to the NBA (almost certainly as an assistant at first).