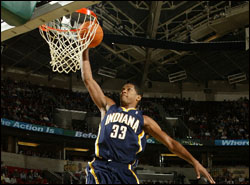 Danny Granger is too often overlooked — he was eighth in the NBA in scoring last year — a very good player lost on a struggling team. He could use a breakout forum, like Team USA at the World Championships.
Except that is now up in the air.
Granger thinks he dislocated the ring finger on his right hand at Tuesday's Team USA practice. It happened on defense, as he went up to block a shot and hit it on the rim.
ESPN's Chris Sheridan spoke to the principles involved.
"He dislocated the bone, but he said he put it right back, and he says he feels he'll be all right," coach Mike Krzyzewski said following the practice at John Jay University…

"We'll find out what I did," Granger said. "It feels fine now, it's numb."
If it is dislocated, it is likely Granger would become one of the three players that will be cut during the team's stay in New York. There are 18 players in camp, only 15 will travel to the World Championships in Turkey.
Granger was already considered a player on the bubble, but a guy who can shoot and score like him does have a lot of value in the international game. However, if he has to sit out a few weeks (or longer) for the dislocated finger, he will be taken off the team to rest up for the regular season.