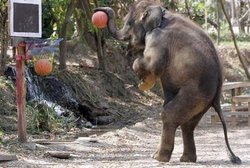 That whole playing a lot of basketball as a youth, getting good coaching in high school and from AAU mentors, going to a college and really maturing your game, then finally getting drafted into the NBA thing is hard. Really hard. You have to have athletic gifts then be willing to work your butt off for no pay to chase that dream.
It's easier to just send a team a video of what you can do. Even if that is not much.
It happens a lot more than you would think, teams get these calls and packages all the time. There's a great story about one sent to the Phoenix Suns a couple years ago, recounted today by Paul Coro in the Arizona Republic.
On the video, a sunset-silhouetted figure approaches and says, "Here we go, let me show you I can play."

In an unedited half-hour video, the man sells his basketball wares like a Times Square hawker trying to push knockoff Rolex watches or Coach purses.

With a cameraman saying, "Go," on each take, the applicant stumbles on defensive slides across a Valley park court, kicks the ball during dribbling drills (asking once, "Were you rolling on that?"), misses layups, falls over backward on defense, shows six clips of missed dunks before making one and pitches, "You can train me to be the best I can be and, from there, it's all uphill."
The Suns found some uses for the video, splicing it into rookie training footage for some humor. But the guy who sent it in was dead serious.
So are the many, many others who make pitches to be coaches or players. They have dreams, ones long deferred by life situations or just a lack of talent. But dreams die hard, so they take one more stab at it.
But my personal favorite part is goes back to the guy focused on in the Arizona piece. The Suns were generous, and then executive with the Suns Vinny Del Negro reached out to the guy and offered to help get him a D-Leauge tryout.
The man was 25, worked at Safeway and was not interested in a D-League tryout because he did not want to move his family.

Reminded that half of NBA games are away, he told Del Negro, "Yeah, I was hoping I could only play home games."