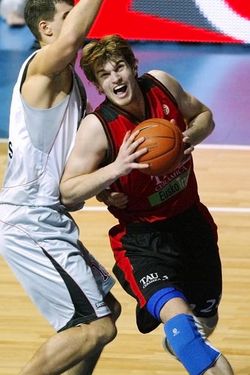 The San Antonio Spurs (and the Brazilian national team) dodged a bullet. Tiago Splitter dodged some long-term, season-altering damage to his muscle tissue.
Splitter was injured while playing against Venezuela in a pre-Championship tournament game, but according to Jeff McDonald of the San Antonio Express-News, it's been diagnosed as a minor thigh contusion. Splitter has actually been cleared to resume play already, but could miss a few of the lead-up games to ensure his availability for the big show.
The Mavs' Rodrigue Beaubois broke a bone in his foot last week while training with the French national team, making it hard to blame any team official for living on pins and needles until the World Championships are over. International competition is always a tense subject around NBA owners and the like, and Beaubois' injury combined with Splitter's minor ailment won't be helping things.
The FIBA World Championships have already taken their first NBA casualty in Beaubois (though depending on the severity of his injury, he could theoretically be available for opening night), and things could get even worse. Splitter is a crucial part of the Spurs' plans for their upcoming season, but he's hardly the only valuable NBAer risking injury to play for his country. Though this year's crop may be low on traditional superstars, guys like Russell Westbrook, Luis Scola, Marc Gasol, and Nene could still break their NBA teams' season by suffering a significant injury.
Hopefully that won't be the case, as the World Championships remain one of the few beacons of hope for basketball fans during the off-season. There may be more reluctance to compete all around if the threat of injury becomes something more. That may not deter foreign players from channeling their basketball nationalism, but I think it's safe to say that an injury to any notable NBA player (American or otherwise) would disrupt Team USA's delicate balance. At some point, even the prestige, honor, and marketing opportunities of the Olympics aren't worth the injury risk, and a season-ending fall by one of their contemporaries would act as a sobering dose of realism for participating NBA players.