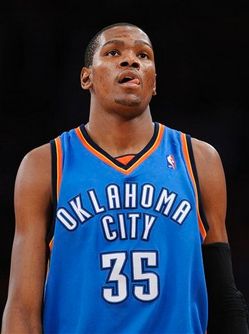 The Miami Heat and Los Angeles Lakers are the undisputed kings of NBA marketing hype. When the league wants to put its best face forward — opening night, Christmas day — these are the teams you will see.
But right behind them is the Oklahoma City Thunder.
And that is the rare triumph of a small market in the NBA marketing world.
How small? Oklahoma City is the 45th largest television market in the United States. In fact, there are only three smaller markets in the nation that have a professional sports team, according to Ben Maller.
Yet starting Monday, there will be Kevin Durant as the lead face for Team USA as it gets together in New York.
Last season, the Thunder had one scheduled nationally televised game before the season started. Already this year we know of three — one opening week, one on Christmas day, one on Martin Luther King day. When the full NBA schedule comes out Tuesday, expect the Thunder to have many more.
The Thunder are the "it" team, the up and coming team. They have the league's leading scorer. They have a young, athletic and exciting squad. They have a team good enough to push the Lakers in the playoffs last season.
Smart money says the Thunder will have more than 20 nationally televised games this season. And you can bet the NBA will be promoting them every chance they get. Market size be damned.