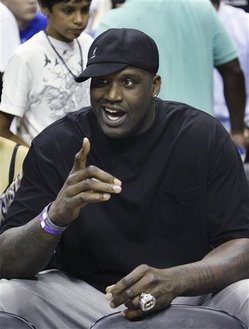 It's like a scene out of an unrealistic television cop drama (unrealistic like having four CSI employees working on your case, as opposed to one CSI working on 50 cases).
You're being arrested for propositioning underage girls on the Internet, and in comes a 7'1″, 300-pound, shaved head man who says he is your Tanya.
Welcome to Shaquille O'Neal's reality, as he told Vanity Fair.
For the last seven years, I've been a detective for Internet crimes against children. So if you ever see me, you know we've got you. If we come to your house, it's all over. You're going to be arrested. You've been having Internet conversations with me, and we've got all the evidence we need to take you down…

I play a little girl on the Internet. So whatever name I'm going by, that will probably be my catchphrase. If I'm Tanya, then it'll be something like, "Tanya says hello." And they'll be like, "Tanya who?" And I'll say, "You don't know no Tanya, huh? I'm Tanya. Let's go." And that's when the cuffs get slapped on you.
I know it's for a good cause, but Shaq as a 12-year-old girl creeps me out. I get it, Shaq speaks the language, he gets kids. Good for that job. Still creeps me out.
And don't think when he is banging bodies with Dwight Howard or scrapping with the Miami Heat somebody isn't going to be calling him Tanya.