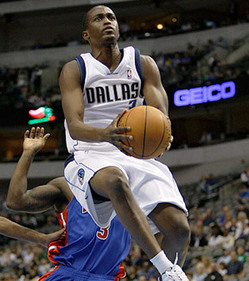 Surgery to put a pin in the foot of your speedy young guard does not sound good.
That's what lies ahead for Roddy Beaubois, but Dallas Mavericks General Manager Donnie Nelson told ESPNDallas.com things were not that bad.
"His prognosis is really good," Nelson said. "He'll miss some time, but he'll be back healthy as a horse."
Mavs owner Mark Cuban, who in the past has expressed concerns about injuries to guys under contract playing with their national teams, also took things in good spirits according to Dallasbasketball.com.
Mavs owner Mark Cuban, trying to calm overreaction to Roddy Beaubois' injury, jokes that the prized youngster "broke his foot; he didn't have it amputated."
Beaubois broke the fifth metatarsal bone during practice with the French national team in preparation for the FIBA World Championships in Turkey later this month.
He will now miss all of training camp and likely the first part of the season, then have to play his way back into shape.
Dallas has the backcourt depth to survive this. Beaubois was going to get a chance to start at the two, but now Caron Butler has that gig to start the season (which means Shawn Marion starts at the three). Jason Kidd wills start at the point and JJ Barea will back him up, while Jason Terry remains the first two guard off the bench.
That will work well for the start of the season and gives the Mavs time to work Beaubois into the rotation. But as he showed last season, he is the spark and energy the veteran team needs sometimes, particularly in the playoffs.