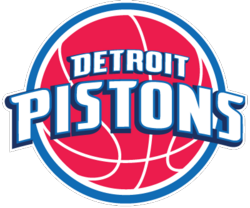 It's not you, it's me. I just need to think about it some more.
That's essentially what the Pistons have told Tracy McGrady. No decision yet, according to David Aldridge at NBA.com. Sources told him Detroit is thinking over offering a contract.
The Pistons "are not about to do anything" imminently with McGrady, the source said, disputing reports that the team had signed McGrady to a contract. Detroit is considering offering McGrady a one-year deal for the veteran's minimum of $1.352 million, but the team continued internal discussions on Sunday between the front office and the coaching staff, trying to decide if the 31-year-old McGrady would be a good fit for the team.
The restructuring in the East has left Detroit in the dust. They have some good players — Rodney Stuckey, Rip Hamilton, Tayshaun Prince and some decent role guys. If every break can go their way, if everybody can stay healthy, they can be in the mix for the seven or eight seed in the East next season. If not, it looks like last year. As for the future, this is a team that is aging not peaking.
Which means it is time to think about a major restructuring, tearing up and rebuilding. That, however, may have to wait until any sale of the team is complete.
As for McGrady, the question becomes why and how does he fit into any rebuilding plans.
At the wings the Pistons will start Hamilton and Prince, with Ben Gordon and Austin Daye backing them up, plus Will Bynum and Stuckey able to play those roles as well. McGrady could be good depth if the Pistons trade Prince at the trading deadline (this is the last year of his contract, there will be interest), but aside that there is no real need, especially for a player that has said he thinks he deserves to be high in the rotation.
As for the other perspective, not the contender that McGrady wanted to land with, but he is running out of choices.